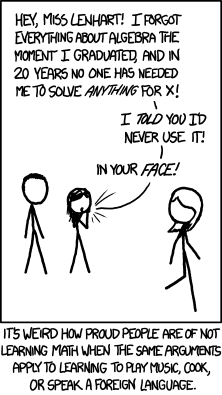 as funny as the whole premise is, it *is* sad that so people have this attitude towards math…
2 Comments »
Comment by Ivan Chan — 6/30/2012 at 11:26 am

What's even more irritating is that math trains your brain–people are usually solving for X–an unknown–all the time throughout their day. Perhaps this also speaks to how one learns something–I know I enjoyed math when I had a kind teacher, but I had a lot of fear about it due to how mean my father was when I didn't understand a concept quickly.
RSS feed for comments on this post. TrackBack URI
Leave a comment
You must be logged in to post a comment.